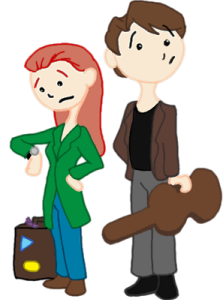 Vixy & Tony can usually be found at the following events:
How to be notified of upcoming Vixy & Tony appearances:
Booking Vixy & Tony:
If you have a venue that you think would be a good place for us to perform our music, please contact us. This includes house concerts!
Our policy on live recordings, photos, and videos:
Yes please! Be our guest! As long as it's not for your profit, of course. If you come to one of our shows and capture our likenesses in pictures, video, or audio, all we ask is that you please:
Post the files on the internet,
tag the files appropriately so that searches work,
give us credit (and link this web site if possible),
give songwriting credit if it's a cover tune,
make sure to spell our names correctly,
If you make a full concert video, we'd appreciate a couple of burned DVD copies if you can, and if it's really good, we'd like to discuss the possibility of offering it up for an Interfilk auction or something similar. If you think your video is auction-quality, then don't post it on the internet; hang on to it and let us know about it.
xmlwidget.html was last modified: Mon, May 20, 2013, 10:06:33 pm vixyandtony.ics was last modified: Mon, May 20, 2013, 10:06:33 pm